Details

Category: Shop & Servicing
Torches - Dive Lights
D550 Dive Light €105
As winter approaches, the days are getting shorter, but don't despair! we can go night diving early in the evening.
It is time to think about a good torch! Also daytime diving in the winter demands a good dive light for diving and après dive!
Introducing the D550, a compact powerful torch, ideal for Irish diving conditions by day and night.
Cree XM-L2(U2) LED.
Magnetic controlled tail switch.
2 brightness levels, one strobe mode.
Max output 720 lumens.
Depth rated to 150 metres.
Comes complete with rechargeable battery, charger, plug adapter, wrist lanyard, hand mount, spare o-rings and secure carry case.
Price €105.
In stock at Scubadive West.
Call +353 (0)95 43922 or email This email address is being protected from spambots. You need JavaScript enabled to view it. to order.
Prices valid in 2016.
Video Lights
D500V Video Light €130
So you've got your action camera, maybe it's a super MUVI camera with waterproof housing rated to 100 metres, maybe it's another brand, now you want to get high quality footage deeper than 5 metres and the ambient light is not enough.
Introducing the D500V, a compact but powerful 700 lumens video light with 3 output settings, easily managed by push button.
Available in stock at Scubadive West €130.
The ideal stocking filler!
Call +353 (0)95 43922 or email us This email address is being protected from spambots. You need JavaScript enabled to view it. to order yours now.
Prices valid in 2017.
Scubapro Nova 230 €104
A medium sized high intensity LED for incredibly long burn-time: from 14 to 18 hours.
The perfect primary light for recreational diving or as a backup for more technical dives.
Rugged aluminum casing, even tougher than it appears.

Powered by three user-replaceable C alkaline batteries.
Archon D20 €189
Specification for Model: D20
LED: CREE XM-L T6 (max 1000 lumens)
Colour Temp: 6500k
Three Output Modes: High / Low / Strobe
Runtine: High 100mins , Low 420mins, Strobe 260mins
Reflector: Glossy Aluminium Reflector
Lens: 8mm polycarbonate board
Body Material: Durable aircraft-grade aluminium
Angle of Light Beam: 5.5 degree hot spot, 110 degree preiphery
Surface Treatment: Premium type iii hard-anodixing
Colour: Black/Grey
Batteries Required: CR123 x 4 or 18650 li-ion battery x 2
Battery over-discharging protection polarity reversing protection
Operation voltage: 6V to 10V
Waterproof: 100m underwater
Operating Temperature: -25C to 60C
Impact resistance: 1.5m
Size: 229mm Long x 24.5mm (Diameter of end) - 60mm (|Diameter of head)
Weight: 365gms (without batteries)
Operation instruction: Successive switching on-off within 2 seconds to cycle through high/low/strobe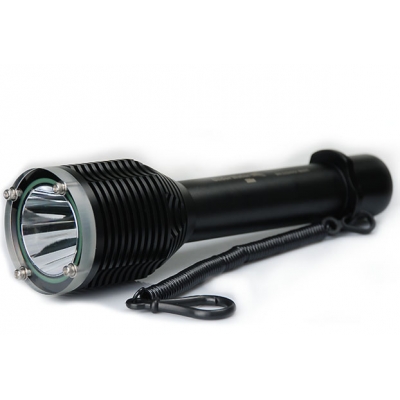 Archon D22 €229
Specification for Model: D22
LED: CREE XM-L T6 (max 1000 lumens)
Colour Temp: 6500k
Three Output Modes: High / Low / Strobe
Runtine: High 4hrs, Low 7hrss, Strobe 6hrs
Reflector: Glossy Aluminium Reflector
Lens: 8mm polycarbonate board
Body Material: Durable aircraft-grade aluminium
Angle of Light Beam: 5.5 degree hot spot, 110 degree preiphery
Surface Treatment: Premium type iii hard-anodixing
Colour: Black
Batteries Required: 26650 li-ion battery x 2
Battery over-discharging protection polarity reversing protection
Operation voltage: 6V to 10V
Waterproof: 100m underwater
Operating Temperature: -25C to 60C
Impact resistance: 1.5m
Size: 228mm Long x 32mm (Body diameter) - 60mm (|Diameter of head)
Weight: 365gms (without batteries)
Operation instruction: Successive switching on-off within 2 seconds to cycle through high/low/strobe